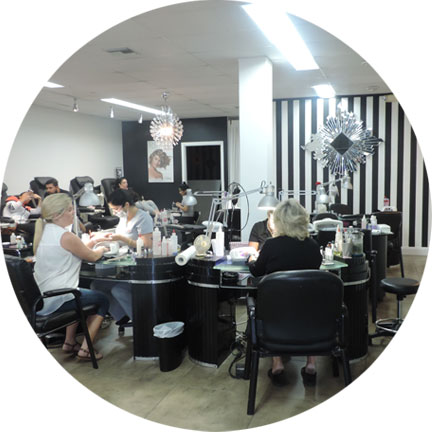 InStyle
Salon
Top Rated Beauty Salon in Miami-Dade County
InStyle Salon is a premier, full-service hair salon in South Florida. We specialize in all things beauty related, including; hair services, facial care, nail care, waxing treatments, and many others. Our talented team of stylists and spa professionals is equipped with the knowledge and expertise to treat men, women, and children. Literally, we can be your one-stop shop for your whole family, if so desired.
Whether you are interested in maintaining your own, unique beauty regimen, creating a brand-new look, or treating yourself to an upcoming special occasion, we welcome the chance to take care of you and provide you with unparalleled beauty services. If you are looking for a salon that gives the best haircuts and exceptional nail services for special events, then InStyle Salon is the perfect place for you.
Professional Miami-Dade Hair Salon
Our InStyle Salon employees understand that each individual is different. It is our goal to assist you with your chosen service while providing you with personalized care. Our hope is to build an uplifting, solid relationship with each client. We want you to feel good about the care you receive in our salon, and confident in your personal appearance when you leave.
Our team has a lot of salon treatment experience and we provide our professional staff with ongoing training. We believe it is vital for our team members to stay current with new trends and be confident in their already-acquired skills.
When you, our customers, feel good about yourself when you leave our salon, then we know that we have had a successful care plan. At InStyle Salon, you can envelope yourself in our comfortable atmosphere, while enjoying your specific beauty treatment. We offer a place for you to relax and escape the usual business of your day. Our team of creative, attentive professionals aims to take care of all of your beauty needs and desires, while you savor the comfort of our home-away-from-home.